Sole
It has been known for its healing properties since the Roman imperial times. Roman soldiers used to stop at the source of this water to fill in their vessels before conquering new lands. According to a legend, the god of the sun and the mother of the four winds, was situated at the same source of water. The water from that source was named "Sole", which means the Sun.

The source of this water has many mysterious legends, one of which is 1000 BC:
"Nuvolento population, where a well-known water source is located, was almost completely destroyed by the plague disease. Monks from neighbor church were visiting houses one by one in order to assess the spread of the plague. The answer " Ego Sum " (I am) meant that the disaster has passed by the house. After the end of epidemic the monks came to conclusion, that the family wich had access to the water source, successfully survived the plague epidemic. Taking into consideration such vital qualities of water, the population of Nuvolento, after the events, named the source of water "the source of a long life".
Classic Italian
---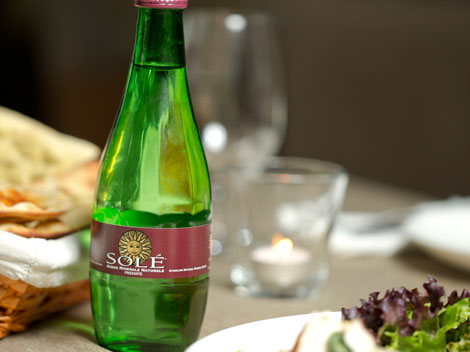 Made from recycled glass and available in a full range of sizes – litre, 750, 500, 330 and 250ml – in either Still or Lightly Sparkling, Sole Classic Italian is a fitting compliment to any dining experience. Renowned for its high quality and low sodium content Sole Classic Italian refreshes and cleanses your palate whilst having a slightly sweet taste.
Sole Italian has a highly elegant look that enhances any dining environment.

Arte
---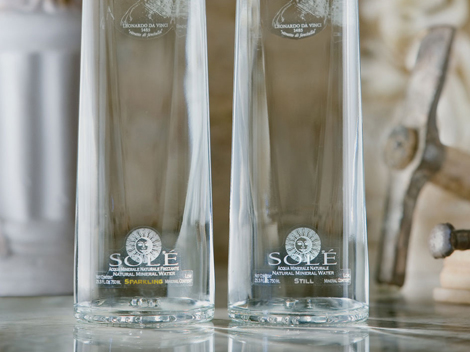 The contemporary Arte range, in 75 and 33cl, is the most recent addition to the Sole Collection. In a sleek, multi faceted clear glass bottle, and available in either still or sparkling options, Arte provides the same crisp taste of Sole in a new exquisitely designed shape.
Art is born of love of beautiful things, and must be unique and innovative. The values of Art are reflected in the beauty of the Arte bottle . A glass bottle, clear and bright, starting round at its base and with facets tapering upwards, irregularly octagonal. A bottle to adorn the most chic restaurant tables of Italy and beyond, capable of transmitting at first glance the idea of a natural mineral water produced with love and served in accordance with the ideals of Art herself.

Acqua armani
---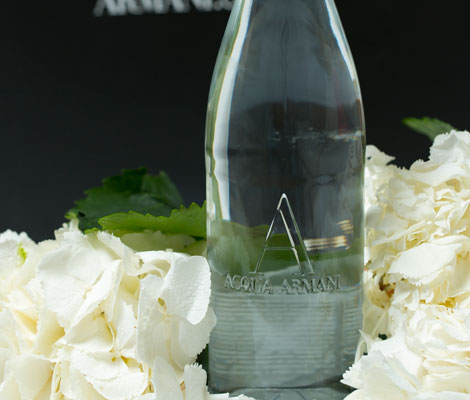 ACQUA ARMANI is bottled with Solé Natural Mineral Water, a premium Italian water served and appreciated in many of the world's finest restaurants. Solé is classified as 'oligominerale' – low in mineral content with extremely low levels of sodium.
Bottled at Source in the foothills of the Italian Alps in Lombardy, in full compliance with the strictest hygiene standards and quality controls.
Available in both Still and Sparkling, in 750ml and 330ml glass bottles